Welcome to Episode 50! This week's conversation is with Samantha Barrett.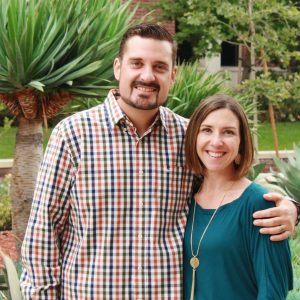 Samantha is wife of Alex Barrett, who is currently serving as the Campus Pastor of Church in the Valley Alhambra.  In the summer of 2018 she  and her family will be moving from Alhambra, CA to Fontana, CA where they will be starting a brand new church to reach out to the community in North Fontana.
Podcast: Play in new window | Download
Links Mentioned:
Lighting Round Notes:
Books:
Quotes:

"It's all going to burn."
"Indeed, I count everything as loss because of the surpassing worth of knowing Christ Jesus my Lord. For his sake I have suffered the loss of all things and count them as rubbish, in order that I may gain Christ." Phil 3:8 ESV

Sam's advice to her 23 year old self:

Just Chill!
Don't worry about what you are not.
The reality of what God is asking me for is daily obedience.
Just chill out, focus on today, be obedient today and pray about tomorrow.
Do you have a question you'd like me to ask a ministry leader in a future conversation or a question you would like to ask me?  Send your questions to mmp@mattsturdevant.com
Subscribe and you wont miss it!
Join me next week for Episode 51!