Welcome to Episode 27! This week's conversation is with an Overseas worker in Asia.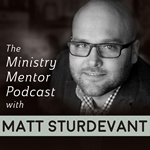 This weeks episode is a little different than my previous episodes, in that I have a conversation with an overseas worker serving in Asia and for security reasons, I'm not printing his name or photo in the show notes.  We use only his first name in the episode and do not give the exact location where he is serving.
Podcast: Play in new window | Download
THIS WEEK'S SPONSOR: The Antioch Project
The Antioch Project is a 5 year, ministry leadership training program developed by the 17:6 Network for men and women who feel called to full-time vocational ministry.  It provides participants hands on training and leadership skills development in a peer cohort under coaching.  Students can also earn a Masters of Divinity degree if they join the Antioch Immerse specialty track.
Links Mentioned:
Lighting Round Notes:
Books:
Quotes:

"In Christ, you are now completely forgiven, fully loved by God and totally accepted." Robert McGee

Advice to his 23 year old self:

Trust God.
Don't be anxious.
Take things 1 step at a time.
Do you have a question you'd like me to ask a ministry leader in a future conversation or a question you would like to ask me?  Send your questions to mmp@mattsturdevant.com
Subscribe and you wont miss it!
Join me next week for Episode 27, a conversation with another ministry leader.